On this day, 9 years ago, I was being surreptitiously dropped off at my apartment the morning after a first date. Yep, the morning after. So, I guess you could say that the date lasted all night, into the morning.
And no, we didn't do that. I swear.
Actually, the date started off oddly enough. He picked me up at my apartment and on the way to the restaurant (by the beach, natch), he drove like an immature goof, swerving intentionally within our travel lane. It was ba-ad. I was not impressed. We arrived at the restaurant without further incident, only to find that hey! it is not a great idea to show up to the nicest restaurant at the beach without reservations on a Saturday evening. The wait was going to be 2 hours or something crazy like that.
.
Apologetically, he grabbed my hand and dragged me back onto the sidewalk, where we started walking briskly away, him trying to reassure me something would work out up the street. (Admittedly, at this point, I'm thinking this guy isn't as slick as he thinks he is.) We walk into the lobby of The Clearwater Beach Hotel* and he approached the host stand. He was told that there is a table available in the lounge, as long as we're willing to vacate it before 8 pm (nearly 2 hours away). You can imagine what the table might be like if someone has reservations for the specific table...
Romantic. A tiny table in a small corner partially hidden by the fireplace hearth, in an elegant lounge, paneled with beautiful wood and lit almost entirely by candelight.
.
We had an incredible dinner (the finest, most expensive meal I'd had in my life up to that point) complete with wine and dessert. We (probably I) talked the entire time, no awkward silences, a genuinely nice time. He had impeccable manners at the restaurant, which did surprise me. After dessert, he asked if I'd like to take a walk on the beach. Cheesy, I know, but I didn't really want the date to end at that point.
.
So, as we walked, he kind of jaunted ahead and flung his arms wide and burst into song. I seriously about died. I realized with a start - this guy is not straight. He is not straight. It was as if a lightbulb went off in my head - it explained his earlier immaturity - he was trying too hard to act like a "guy".
.
After we walked the beach and headed back to the car, he invited me back to his apartment to watch a movie. I, of course, was convinced at this point that he's gay, what with all the show tunes he sang on our walk, so I accepted the offer of the movie. I figured, typical me to like a boy who's not going to like me back because he likes boys - but we'll be great friends and shopping buddies. We arrived at his apartment and I was further convinced of his, um, orientation. There was artwork on the walls, everything was neat and immaculate and clean. Oh, and let's not forget the bigger-than-life-size poster of Prince on his bedroom wall.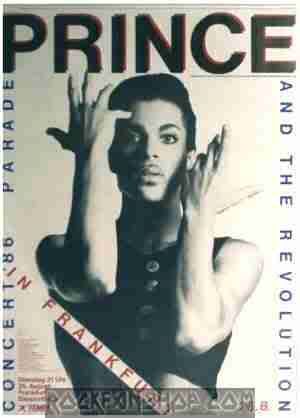 Um, yeah. This was not the typical apartment of a single 22 year-old boy.
.
So, we sat next to one another on his tiny leather loveseat (he didn't have another couch) and watched the movie. What movie you ask? Why, Snow White, of course. Tell me that you are not also wondering how I managed to end up on a date with a boy who sings show tunes on the beach and owns Snow White, just try to tell me you don't believe at this point what I was thinking then. Yeah, that's what I thought.
.
Through the entire movie, no touching, not even holding hands, some talking, but not much, we were watching Snow White. Afterwards, we're chatting and he asked if he can kiss me. I said sure, because hey, I'm nothing if not easy. Just kidding, sort of.
.
Anyway, he kissed me - and wow! What lips. Wow. And then we're making out. And well, let me just tell you - hmmm. A few times I said, "I really should be getting home.." And we'd start kissing again... He picked me up and carried me into the bedroom and ran my arm and shoulder into the doorframe. Ouch! Come to think of it, I wonder if my jacked up shoulder is in some way due to what happened then. Anyway, we lay on the bed, kissing and um, you know, running our hands on each other's backs. He started tugging at my clothes and I said no. I said maybe he should take me home and he said he doesn't want me to go. I told him that my clothes are staying on. And he said okay, but please stay. So I did. We slept in his bed, falling asleep talking to one another and softly stroking arms and backs.
.
In the morning, I was horrified that I had spent the night with him. What was I thinking? On a first date? And isn't he gay?
.
When he dropped me off, my neighbor was out smoking and she had seen me off the night before, so she knew I had spent the night. Oh, it was embarrassing. But, definitely the most interesting first date I'd had.
.
That boy - the one who sang show tunes on the beach and with the Prince poster on his bedroom wall - he ended up being the best thing that ever happened to me. The Prince poster is rolled up and packed away, but the show tunes continue and now he's teaching them to our daughters.
.
*The Clearwater Beach Hotel went on to become a very special place for us. Without knowing it was the location of our first date, Husband's mother planned a luncheon there for after our courthouse wedding, 51 weeks after we met. It was also the site of our first date (for my birthday) after the birth of our first daughter and brunch with the family on my first official Mother's Day. Sadly, the historic hotel was torn down last year to make way for a luxury resort and condominium complex.