Well, one evening last week, A told me that he was considering coming home for the weekend. I was, of course, excited as well as filled with trepidation. In case you didn't read my post from last week, we have different ideas on when a move might happen and that caused some unrest during our visit last weekend. Back to the current story... His plan was to drive up Friday night (arriving here about midnight) and then drive back this morning (arriving there about noon). Having just done this myself last weekend, I didn't think he would really enjoy this week after that much driving packed into a couple days.

A had a meeting in Hilt*n Head Thursday morning last week and was heading back to central FL that evening. He was to change planes in Atlanta before flying to Orlando. I asked him that morning, "Why get onto the flight from ATL to Orlando? Why not just take Friday off from work and then we'll get you a flight back after the weekend." He thought this was a silly idea until I reminded him that it is an 8 hour drive that he wouldn't have to make twice in a weekend. I was able to get a flight back this morning on A*rTran for $64 including taxes! So, we spent a glorious 3 days together as a family - a true 3-day weekend, which was turned into a mini-vacation right here at home.

Thursday evening, we picked A up from the airport and headed out to get some supper. I think he felt guilty about how he acted last weekend because he suggested my favorite places for dinner. We ended up at Ol*ve Garden and had plenty of leftovers to bring home. Afterwards, we came home and he gave the girls a bath (the one parenting responsibility that has been mostly his since the beginning of our parenting days) before bed. It was nice putting them to bed together again before settling in to watch our favorites: The Apprent*ce and ER. Something about sitting wrapped up together for some chill time started off the weekend great. Ah, the simple things...

Friday

We slept in until past 9 AM!! I think it was the first time in ages we have both slept in. The girls were up early and I just said "turn on a movie" and we didn't hear a peep from them until after we were up for the day. Does this make us bad parents?? We went to a Family Fun Health Fair at the Y (my girlfriend, L, had a
booth
there) and then out to lunch with her and her son, N (she treated since we were babysitting her son the next day!). We came home and I think we all had naps... We had a quiet evening - oh, I made real hot chocolate for dessert after a dinner of leftovers for me and the girls and Thai noodles I whipped up for Adam (he ate all his dinner from the night before).

Saturday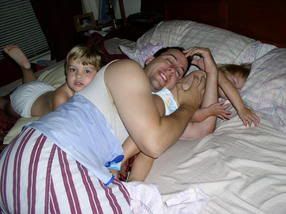 When days start like this, how can they be a bad day?

After breakfast, we headed north to pick up L's son before heading to a craft fair for a bit before going off to meet another friend and her son at his pre-school's FallFest. It was a beautiful fall day, perfect for being outside.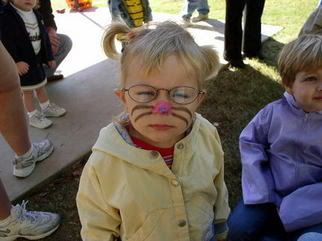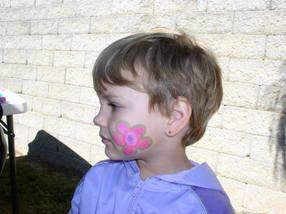 The kids jumped in a moonjump, had their faces painted, rode ponies...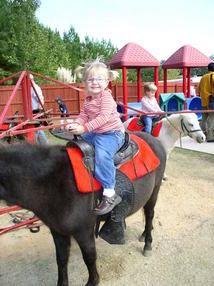 There were craft activities, pumpkin decorating, a cake walk, hot dogs and cotton candy...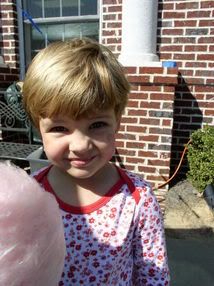 A fun time was had by all and the best thing about it? It was all FREE! It was such a small festival that we had no problems keeping track of 3 pre-schoolers that all wanted to do different things at the same time. Afterwards, we went back to L's house for naptime. A stayed with the kids while I went back out to the craft fairs in town.

I had a really nice time just walking around by myself and browsing and actually did some major shopping - I have almost all my Christmas gift-buying done! I went to man L's booth for an hour so she could check out the other craft fairs up the street and do some shopping herself. It was nice at that point just to sit and relax since most of the craft fair shoppers were done that late in the day. L watched the girls that evening while A and I had a nice dinner out alone before coming home where I went to bed at 9 PM. :)

Sunday

After church, we rushed home for lunch and to change before going to V's school for Open House. That was an ordeal, with things getting started late and then all the kids getting restless. A helped V practice her song all weekend and he told her to sing as loud as she could. And well, she did. It was hysterical seeing those little kids up there singing so loud (the others took their cue from V). I was proud of them all that they did it right in front of all those people. We scooted out of there early because the girls were just too antsy and couldn't sit still after 2 hours! We came home for naptime and then were off to see A Shark T*le. It was little A's first time at the movie theater (not counting when I took her as a sleeping baby) and she thought it was so cool. It was a cute movie and we all had a nice time sharing popcorn, even though we were all the way up at the very top row on the end (V picked the seats). It was a wonderful end to a packed full weekend spent with daddy.

A and I reconnected as a couple and as parents this weekend. It was nice for him to be able to redeem himself after last weekend. We haven't resolved the issue on when to move yet, but at least we are twitter-pated again. We dropped him at the airport bright and early this morning (before it was even bright outside, actually!) and he is back to FL today, but then turns around and heads to the Windy City tomorrow for the rest of this week. It will be a short 12 days until he is home again for a weekend.

This have been a long-winded entry, so I am going to sign off for now and promise another update tomorrow about what is going on for this week that I am so excited about as well as some things that need prayer attention from all my friends and anyone willing to send up some prayers on my behalf.

Until next time, God hold you and your family in His loving arms.