I haven't really talked about this much, I guess because I've had other stuff on my mind, but we're going to Vegas, baby!
Since A has to go to a conference there next week (he actually leaves this Sunday), we thought it would be great to take advantage of the opportunity and I am going, too. I don't leave til Thursday, but we'll stay through to Sunday night and we are on separate red eye flights back to the east. I can't imagine what it will be like to spend 4 days without my children. Or what it will be like spending 3 days with my husband without our children. Though I know we'll have a great time and completely enjoy our time together, I also know that I will be so happy to have my children in my arms again that Monday morning. It makes me nervous to be so far away from them - that both parents are going to be basically on the other

side

of the country.... Holy cow, I shouldn't think of it, it is making panic close in. But, really, we have plans to go to a show or two, but mainly just enjoy our time in a city that never sleeps (though you can bet your pants that we will be spending some quality time with zzzz's above our heads).
We are staying

here

my first night there (his conference is nearby, so this is where he'll be all week). Since A is no good at planning ahead, he didn't have the company make his reservations for the whole stay at the great rate for the conference. So, we will be paying an

exhorbitant

amount of money to stay off the Strip at a different resort hotel. I won't say where because I feel kinda creepy about it, in lieu of what happened on the Gulf Coast a couple weeks ago. I guess that gives it away... We're really looking forward to experiencing this incredibly popular city and since A is a hotel freak, we'll be going around checking out all the cool features at each hotel. Who says you gotta gamble in Vegas? Funny thing is, neither one of us even wants to.
The title of the entry is the title of my new current favorite song, written and performed by JD F0rtune on Rock$tar: INX$. Next week is the finale of the show and even though I don't like JD the best as a person (though, truthfully, he's grown up a lot since I started watching about a month ago), I think he's

perfect

for INX$ and is incredibly talented, even nice to look at. You can look at a gallery of photos of JD by going

here

. Or you can just get a glimpse below.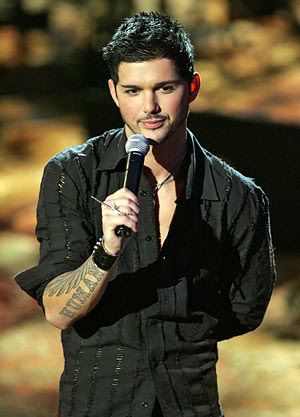 You can hear a clip of the song

here

. Or if you dig around on
http://rockstar.msn.com
, you can find the video stream and watch the whole performance with Dave Navarro on guitar. Pretty freakin cool.
For now - for me - it's all about Vegas, baby.